Grand Theft Auto: San Andreas Official Soundtrack Box Set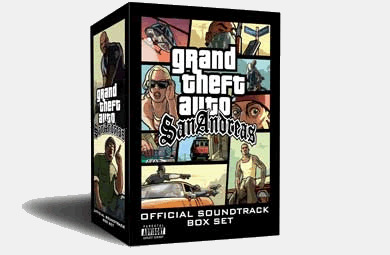 Titolo:
Grand Theft Auto: San Andreas Official Soundtrack Box Set
Artista:
Artisti vari
Etichetta musicale:
Interscope Records
Genere:
Colonna sonora
Data di rilascio:
07 Dicembre 2004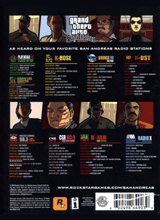 Grand Theft Auto: San Andreas si è vantato non solo per sua intricata giocabilità ed estesa longevità, ma anche per l'utilizzo innovativo della musica nel gioco. La Rockstar Games ha dato il meglio di se per offrire ai giocatori il piacere di ascoltare buona musica durante il gioco, aumentando il divertimento al massimo livello. Le stazioni radio in San Andreas sono 11 e trasmettono una vasta gamma di musica dal classic rock al rap, reggae, country, house e perfino una talk radio. Inizialmente è stata rilasciata una soundtrack composta dal DVD "The Introduction" e da due CD contenenti una selezione dell'intera colonna sonora del gioco (fu caratterizzata dalla presenza di genere rap e funk, qualche brano di classic rock, rock alternativo, R&B, e motivi country). Con questo box set, invece, è disponibile una collezione molto più dettagliata della musica che si ascolta durante il gioco.
I fan di GTA: San Andreas avranno notato che il gioco presenta 11 stazioni radio, ma questa soundtrack ufficiale è composta solo da 8 dischi. Cosa è successo alle altre tre stazioni radio?
Per alcune strane ragioni la radio Playback FM e Radio Los Santos (le stazioni in vecchio e nuovo stile rap del gioco) sono state compilate in un singolo disco. La talk radio, WCTR, invece è stata omessa per ovvie ragioni. Ma la cosa più sorprendete di tutto il box è che SF-UR, la stazione di musica underground techno/house, non è stata inclusa nel pacchetto! Forse per motivi di copyright o per altre ragioni a noi sconosciute.
Potete consultare le liste complete di tutti brani del gioco nella pagina
Radio
.
Qui di seguito vi elenchiamo le recensioni di ogni CD con la lista dei brani inclusi.
Disco 1: Playback FM / Radio Los Santos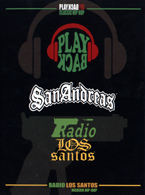 Genere:
Classic & Modern Hip Hop
DJ:
Forth Right MC & Julio G
Come già abbiamo anticipato, due delle stazioni radio più popolari del gioco — rap in vecchio stile di Playback FM e nuovo stile/West coast gangsta rap di Radio Los Santos — sono state compilate in un singolo disco. Il risultato è un CD con 16 tracce riempito di musica e conversazioni radiofoniche (tecnicamente ci sono solo 11 canzoni su questo disco, le altre 5 "tracce" sarebbero i jingle della radio, pubblicità e commenti dei DJ). L'omissione più rilevante dall'attuale colonna sonora del gioco è che nessuna musica di Death Row/Aftermath è presente (per es. niente Dr. Dre) come anche nessuno dei classici di N.W.A./Ice Cube. Inoltre, non sono stati aggiunti gli artisti Cold Chillin' (Kool G Rap, Big Daddy Kane, Masta Ace) nella porzione di Playback del disco. Queste esclusioni sono un po' più importanti in quanto gli artisti suddetti determinano il tono complessivo e la sensazione delle stazioni radio del gioco. Nonostante ciò i fan della serie GTA potranno ascoltare un buon "mix-CD" contenente pezzi dei Public Enemy, Cypress Hill, e 2 Pac.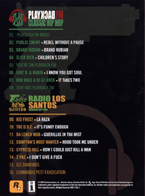 Lista brani:
Playback FM - Classic Hip Hop
01. Playback FM Intro
02. Public Enemy - Rebel Without A Pause
03. Brand Nubian - Brand Nubian
04. Slick Rick - Children's Story
05. You're On Playback FM
06. Eric B. & Rakim - I Know You Got Soul
07. Rob Base & DJ EZ Rock - It Takes Two
08. That Was Playback FM
Radio Los Santos - Modern Hip Hop
09. Kid Frost - La Raza
10. The D.O.C. - It's Funky Enough
11. Da Lench Mob - Guerillas In Tha Mist
12. Compton's Most Wanted - Hood Took Me Under
13. Cypress Hill - How I Could Just Kill A Man
14. 2 Pac - I Don't Give A Fuck
15. Ice Diamonds
16. Commando Pest Eradication
Disco 2: K-ROSE - Country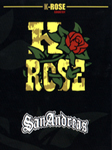 Genere:
Country e western
DJ:
Mary-Beth Maybell
La stazione country inclusa nel gioco contiene 15 tracce di pura, non sofisticata musica country. Il disco è stato limitato fino a 10 tracce di musica con 5 tracce di presentazioni radiofoniche, tra cui jingle, pubblicità fittizie incluso la birra "Logger" e un'altra per il "Starfish Resort And Casino." Queste pubblicità vengono trasmesse solo di notte, a causa della loro indelicatezza.

Lista brani:
01. K-ROSE Intro
02. Willie Nelson - Crazy
03. Hank Williams - Hey Good Lookin'
04. Conway Twitty & Loretta Lynn - Louisiana Woman, Mississippi Man
05. Statler Brothers - Bed of Roses'
06. You're On K-ROSE
07. Jerry Reed - Amos Moses
08. Eddie Rabbit - I Love A Rainy Night
09. Whitey Shafer - All My Ex's Live In Texas
10. Ed Bruce - Mammas Don't Let Your Babies Grow Up To Be Cowboys
11. Merle Haggard - Always Wanting You
12. Patsy Cline - Three Cigarettes In The Ashtray
13. That Was K-ROSE
14. Logger
15. Starfish Resort and Casino
Disco 3: Bounce FM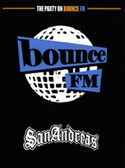 Genere:
Funk
DJ:
The Funktipus
I sound funk in nuovo stile che pervadono la stazione Bounce FM nel gioco sono stati rappresentati abbastanza bene sul box set con 10 delle 17 tracce originali del gioco. Purtroppo nel disco mancano grandi artisti come MFSB, Fatback, The Isley Brothers, Lakeside, George Clinton (in maniera sorprendente siccome è il DJ della stazione), Johnny Harris e una traccia aggiuntiva degli Ohio Players.
Lista brani:
01. Bounce FM Intro
02. Kool & The Gang - Hollywood Swingin'
03. Rick James - Cold Blooded
04. The Gap Band - You Dropped A Bomb On Me
05. Cameo - Candy
06. Ronnie Hudson - West Coast Poplock
07. You're On Bounce FM
08. Zapp - I Can Make You Dance
09. Dazz Band - Let It Whip
10. Roy Ayers - Running Away
11. Ohio Players - Funky Worm
12. Maze - Twilight
13. That Was Bounce FM
14. Glory Hole Theme Park - Fun With Strangers
15. Eris Pump Up Shoes
Disco 4: K-DST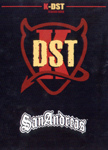 Genere:
Rock and roll
DJ:
Tommy "The Nightmare" Smith
La stazione classic rock è stata rappresentata con 11 tracce di dura musica che include le hit di Heart, Kiss, Boston, Humble Pie, e The Who, tra gli altri artisti. In modo evidente dal CD sono stati rimossi alcuni simboli originali del Rock come David Bowie, Billy Idol, Tom Petty, Creedence Clearwater Revival, Foghat e Toto.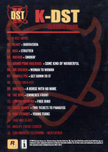 Lista brani:
01. K-DST Intro
02. Heart - Barracuda
03. KISS - Stutter
04. Boston - Smokin'
05. Grand Funk Railroad - Some Kind of Wonderful
06. Joe Cocker - Woman To Woman
07. Humble Pie - Get Down To It
08. You're On K-DST
09. America - Horse With No Name
10. The Who - Eminence Front
11. Lynyrd Skynyrd - Free Bird
12. Eddie Money - Two Tickets To Paradise
13. Rod Stewart - Young Turks
14. That Was K-DST
15. Midlife Crisis Center
16 San Andreas Telephone - New Father
Disco 5: Master Sounds 98.3 - Rare Groove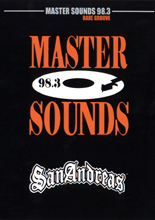 Genere:
Soul, groove e funk
DJ:
Johnny "The Love Giant" Parkinson
La stazione funk in vecchio stile viene rappresentata con 11 delle 18 canzoni ascoltate nel gioco. Anche qui si può notare che sono assenti le inclusioni di Bob James, The Blackbyrds, Bobby Byrd, War, Gloria Jones, Lyn Collins e Maceo & The Macks. Nonostante ciò, le tracce incluse danno ugualmente la sensazione di questo genere di musica.
Lista brani:
01. Master Sounds 98.3 Intro
02. James Brown - The Payback
03. The Chakachas - Jungle Fever
04. Lyn Collins - Think About It
05. Bobby Byrd - I Know You Got Soul
06. Charles Wright - Express Yourself
07. Maceo & The Macks - Cross The Tracks (We Better Go Back)
08. You're On Master Sounds 98.3
09. Sir Joe Quarterman & Free Soul - (I Got) So Much Trouble In My Mind
10. The J.B.'s - Grunt
11. Harlem Underground - Smokin' Cheeba Cheeba
12. James Brown - Funky President
13. Booker T & The MG's - Green Onions
14. That Was Master Sounds 98.3
15. Cluckin' Bell
16 Zebra Bar - Fun To Try
Disco 6: CSR 103.9 - New Jack Swing

Genere:
Modern soul
DJ:
Philip "PM" Michaels
Delle 13 tracce incluse nella colonna sonora originale del gioco, solo 11 sono state inserite in questo disco. Le tracce mancanti sono: "Keep On Movin'" di Soul II Soul e "Rub You The Right Way" di Johnny Gill.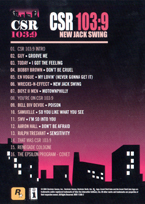 Lista brani:
01. CSR 103.9 Intro
02. Guy - Groove Me
03. Today - I Got The Feeling
04. Bobby Brown - Don't Be Cruel
05. En Vogue - My Lovin' (Never Gonna Get It)
06. Wrecks-N-Effect - New Jack Swing
07. Boyz II Men - Motownphilly
08. You're On CSR 103.9
09. Bell Biv Devoe - Poison
10. Samuelle - So You Like What You See
11. SWV - I'm So Into You
12. Aaron Hall - Don't Be Afraid
13. Ralph Tresvant - Sensitivity
14. That Was CSR 103.9
15. Renegade Cologne
16. The Epsilon Program - Covet
Disco 7: K-JAH - Dub/Reggae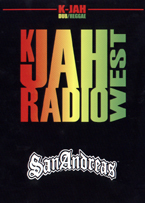 Genere:
Dancehall, reggae e dub
DJ:
Marshall Peters & Johnny Lawton
Il disco della stazione reggae del gioco presenta ben 16 tracce. Considerando che 5 rappresentano introduzioni, commenti di DJ e scherzi commerciali, ci sono un totale di 11 canzoni originali. Il disco è adornato con la parola JAH, compitata nei tradizionali colori Giamaicani: rosso, giallo e verde. Gli artisti omessi in questa collezione sono Shabba Ranks, Buju Banton, Dennis Brown, Willie William, e I Roy.
Lista brani:
01. K-JAH Intro
02. Max Romeo & The Upsetters - Chase The Devil
03. Barrington Levy - Here I Come
04. Black Uhuru - Great Train Robbery
05. Blood Sisters - Ring My Bell
06. Toots & The Maytals - Funky Kingston
07. Augustus Pablo - King Tubby Meets The Rockers Uptown
08. You're On K-JAH
09. Pliers - Bam Bam
10. Dillinger - Cocaine On My Brain
11. Black Harmony - Don't Let It Got To Your Head
12. Reggie Stepper - Drum Pan Sound
13. The Maytals - Pressure Drop
14. That Was K-JAH
15. Sooth Cough Medicine
16. Wrestling On Weazel
Disco 8: Radio X - The Alternative (Modern Rock)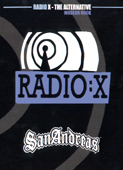 Genere:
Modern rock
DJ:
Sage
L'ultimo disco dell'intero box set da libero sfogo ai pieni sound del modern rock sugli ascoltatori desiderosi. Il disco presenta 10 tracce musicali con 5 spot pubblicitari e introduzioni di DJ. Purtroppo, gli artisti omessi dalla collezione sono 5 grandi rappresentati di questo genere: Guns N' Roses, Ozzy Osbourne, Alice In Chains, Primal Scream e The Stone Roses.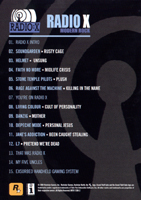 Lista brani:
01. Radio X Intro
02. Soundgarden - Rusty Cage
03. Helmet - Unsung
04. Faith No More - Midlife Crisis
05. Stone Temple Pilots - Plush
06. Rage Against The Machine - Killing In The Name
07. You're On Radio X
08. Living Colour - Cult of Personality
09. Danzig - Mother
10. Depeche Mode - Personal Jesus
11. Jane's Addiction - Been Caught Stealing
12. L7 - Pretend We're Dead
13. That Was Radio X
14. My Five Uncles
15. Exsorbeo Handheld Gaming System